Get Response: your entire marketing program in one place,
GetResponse is a cost-effective marketing automation tool. The solution unites in one place e-mail marketing, landing page creation, lead management, webinars, among other features, in an intuitive way, enabling the optimization of processes.
We live in an increasingly connected and changing world with unpredictable speed. The consumption habit accompanies this change and it has become increasingly difficult to delight your potential customer. Therefore, it is necessary that people and companies adapt to the new consumption pattern in this new era of technology and communication. That is why tools like GetResponse are important .
With this demand, the need arises to centralize your contacts and interactions with your target audience. The solution may be marketing automation, that is, when a platform has the possibility to trigger emails, create landing pages, publicize webinars , among many other things.
It is not always easy to find a tool that encompasses several essential functions for those who want to work on digital marketing on its most diverse fronts. However, there is an easy and cost-effective solution, which is the GetResponse system.
GetResponse is a complete digital marketing platform that is trusted by thousands of companies in more than 100 countries. The tool is available in 27 languages, has a specialized team to answer any questions from customers, and was developed by professionals who want to implement effective and high-impact marketing campaigns.
What is the GetResponse system?
In one platform, you get resources for email marketing, landing page creation, marketing automation, auto-responses, lead management, webinars, among other features.
The solution is focused on 5 main areas: deliverability, lead generation, marketing automation, inbound marketing, and multiuser access.
Developed for professionals who want to implement effective marketing campaigns, of high impact and with a great return on investment, the system can be used both by beginners – the company offers various online content – and by specialists who already know digital marketing.
What features are offered to the user?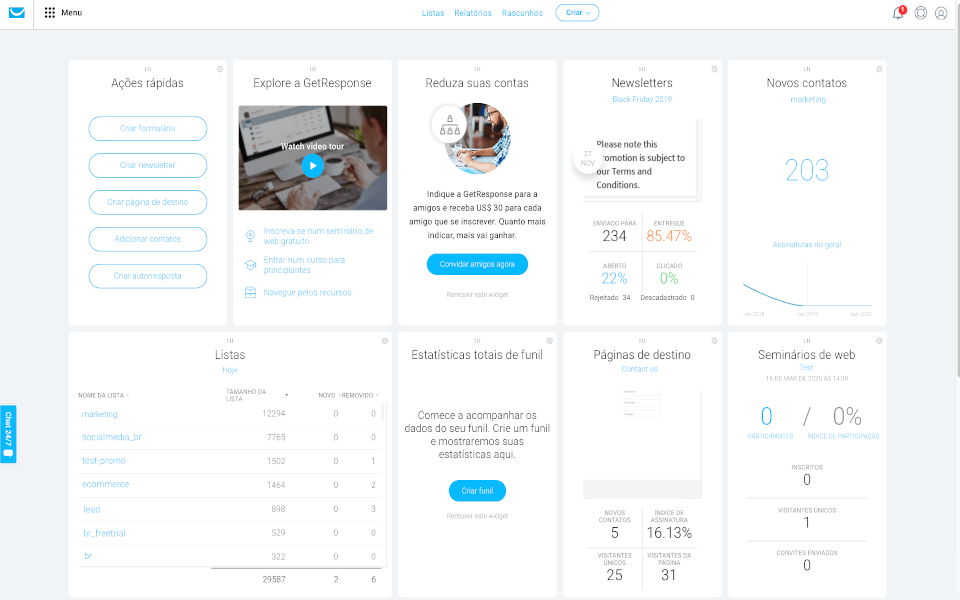 Marketing operations are diverse and operate on different platforms and means of communication. For this reason, the most complete systems group solutions for the main processes.
Check out some of GetResponse's features below.
Management of email marketing campaigns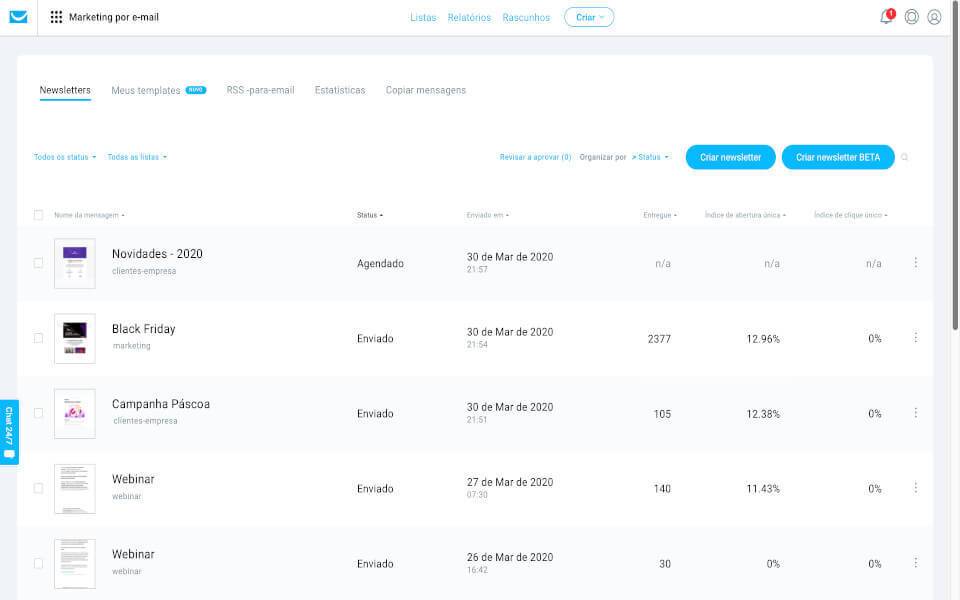 For those who are starting in the world of digital marketing, it is important to note that email marketing is still very relevant, because through it you can work with content that arouses the need for your product or service, and establish lead nutrition flows.
GetResponse allows you to create emails in minutes, in a simple way with the drag and drop editor. But if you prefer, they also offer ready-made templates and more than 5,000 images for use.
You can also use your customers' information in your messages to display personalized and dynamic content. In addition, there is also the possibility to monitor the performance of the campaigns, and make A / B tests to improve them.
The e-mail creator also has functions that help to optimize the moment of sending, such as "Perfect moment" and "Time travel", which allow e-mails to arrive in the inbox at the ideal time, ensuring highlighted in the subscribers' inbox.
With an adequate communication flow, you can send relevant information and convert prospects into customers, in addition to the possibility to reactivate contacts from your lead base. Email marketing is a non-invasive way, with an interesting rate of return and you can use it during all stages of the buyer's journey.
Construction of landing pages
When working with digital marketing strategies, there is also a need to create landing pages , also known as landing pages .
These pages are intended to be simple and straightforward, facilitating conversion – that is, capturing user data and accessing specific content. With them, you can easily grow your contact list, display products, promote your webinars and more.
Even if you already have a website prepared for this type of interaction, these pages stand out for their ease of creation, not requiring specific knowledge of programming or web design, especially with the templates of the platform itself.
In addition, it is possible to have several landing pages active at the same time, expanding conversions on several fronts of action. Another advantage is the turnover, since, to replace the campaign and the layout , a few minutes are spent.
GetResponse also offers other functions to enhance results, such as: pop-ups, forms, countdown, and integrations with your favorite tools.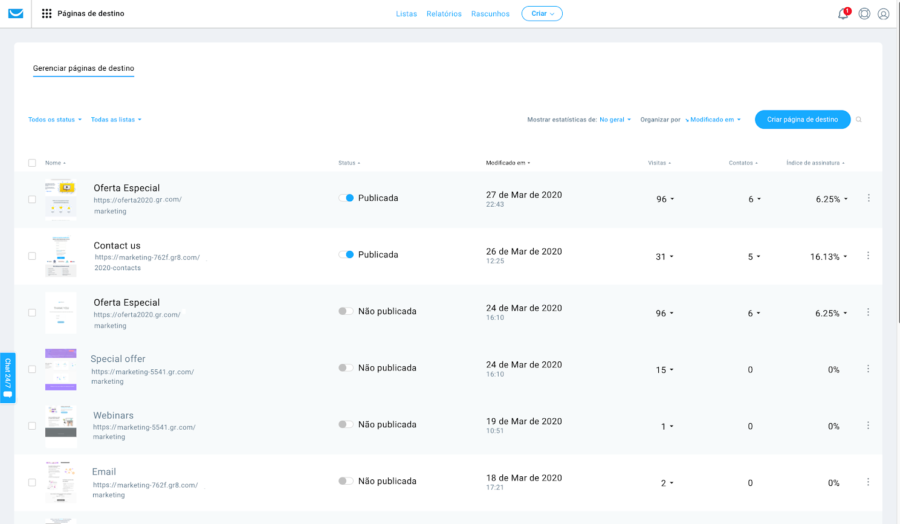 Marketing Automation
Tying all these functions together is marketing automation, which is extremely useful for setting up campaigns in the short, medium and long term for all visitors, subscribers and customers of your company.
Automate your entire journey in minutes with GetResponse – and keep your customers longer, with personalized messages based on real-time data.
The platform's marketing automation has a powerful set of conditions, filters and actions. You combine them to create workflows that reflect a user's journey or experience. The platform searches for contacts in your email list that meet the dozens of conditions you specify, and then performs the desired actions.
Another interesting function is called "involvement classification" also known as lead scoring. With it it is possible to monitor and score the actions of users in their emails and pages, and subsequently create individual profiles of contacts based on these scores.
Automation is also extremely useful for the follow-up of a potential customer. If the user consumes a type of content, you can create automatic responses to maintain the relevance of the subject to him.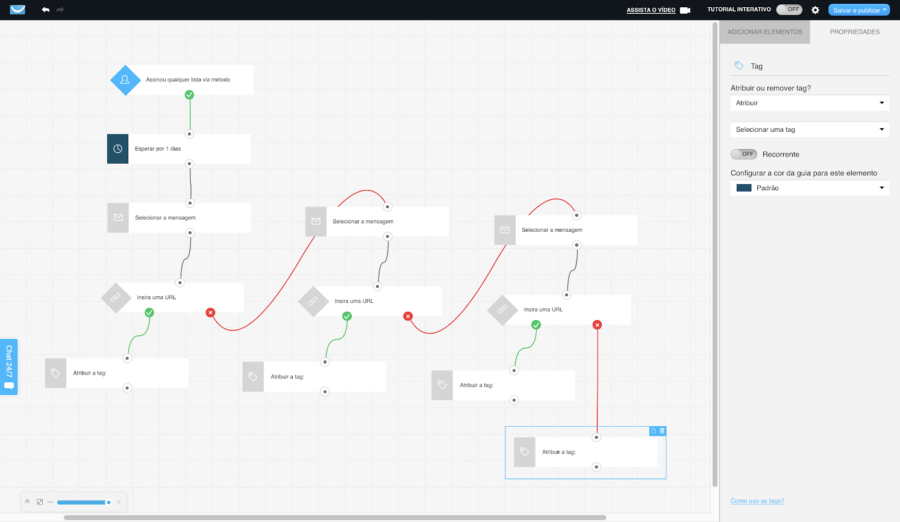 Structuring webinars
Webinar is an online video presentation, recorded or live, that allows you to share your content with just about anyone in the world. GetResponse is the first online marketing solutions tool to offer a complete webinar tool .
The use of this module is extremely simple, not depending on plug-ins, or other software, and working on all browsers.
To facilitate communication, it is also possible to share all or part of your screen, upload files and images during the presentation, create interactive whiteboards to discuss, edit and brainstorm, link YouTube videos and, above all, use the powerful live chat to boost the involvement of the participants.
You can still stream on Facebook and Youtube, use the feedback tool to find out if your webinar was assertive, make the recordings available or record a webinar beforehand for your audience to watch whenever they want.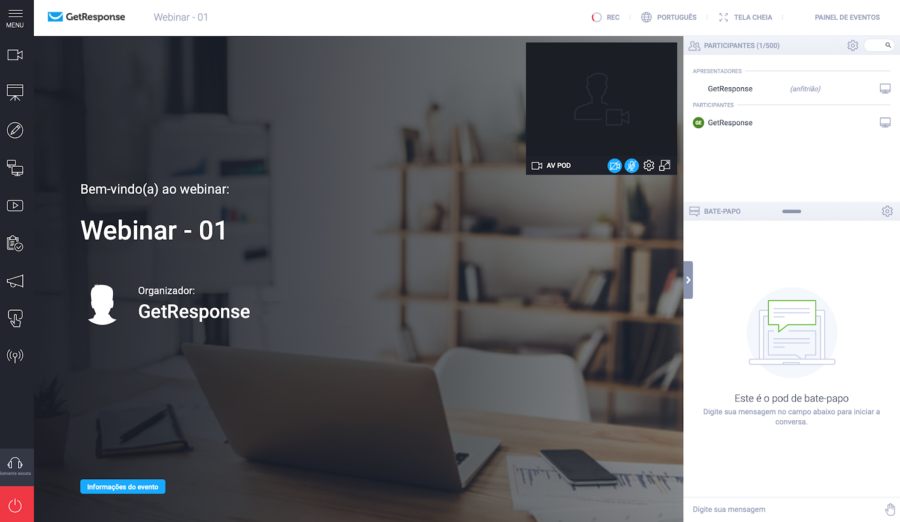 Why use marketing automation?
As stated in the first paragraphs, after the advent of the internet, the way we apprehend the world around us has changed a lot.
Before, the process of purchasing a product or service was based on price and trust between customer and seller. However, once we get used to online shopping and the competition has grown, it takes more than that to ensure your company's success and survival in this market.
Nowadays, the keyword is relationship. For this reason, the sales funnel is often used to build a strategy that is consistent with the buying journey of today.
Before you have a customer, you have a visitor and, from there, you need to arouse their interest in your product or service.
It is extremely important to appear well positioned in search engines and to be present in social networks.
But none of this will work if you don't have relevant content for your customer. Therefore, it is recommended that, at the top of the funnel, you have a wide variety of options, with indirect connections to your service.
Marketing automation enters the moment when the visitor starts consuming certain types of content frequently.
Knowing this, it will be automatically included in the segmentation created for that specific need, always trying to move it further and further into the funnel.
Delivery capacity
Delivery capacity is a highly undervalued issue by marketers. However, by keeping your emails out of the spam box, you also avoid blacklisting or getting a bad reputation as a sender.
GetResponse sends (and delivers!) Millions of emails every day. The company has links with global companies that provide e-mails and local suppliers, and also take several other actions to improve the delivery capacity of its customers.
Centralization of information and analysis of results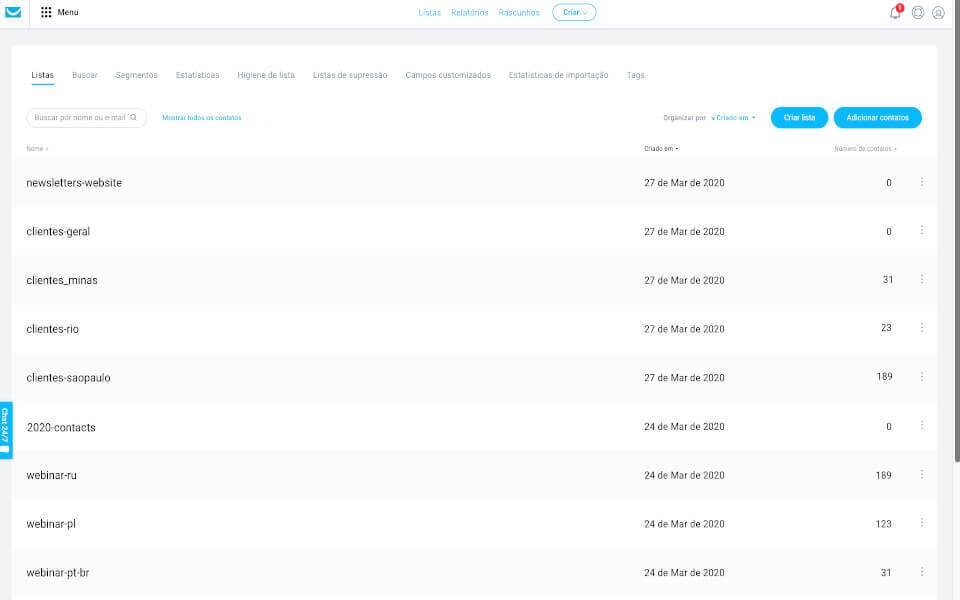 GetResponse allows you to centralize your actions, data and information in one place.
Often, people do not organize their contacts in a standardized way, having several spreadsheets and systems, almost always with duplicate contacts. In addition, many make use of different solutions for their strategies.
This is detrimental to anyone who wants to send email to prospect customers or simply maintain a relationship with the audience. For those who need organization and consistency, using an integrated tool is essential.
Another important function is the integration with other CRM, CMS, e-commerce, analytics and social media platforms.
If you have a website or e-commerce, it is interesting to use GetResponse to monitor users' behavior and indicate products or content that are relevant to them.
It is important to highlight the great differential of digital marketing and automation. In the recent past, when only traditional media (such as TV, radio, print) existed, it was almost impossible to be sure how many people were impacted by your campaign.
With a tool like GetResponse, you will enter the era of results analysis. You will be able to follow in real time – through the browser platform itself or through the GetResponse mobile application – the opening metrics and conversion rates of email, landing pages, automatic responses and all other features offered.
This way, you will be sure of the return you get on your campaigns and will be able to create smarter strategies and manage your sales easily and efficiently.
GetResponse plans and pricing
GetResponse is available in Brazil in 4 different plans, with prices more accessible than competitors. The values ​​were checked in April / 2020 and we recommend that you always consult the company's website.
The plans depend on the number of contacts you want to work on the database and on the features you think are most needed. The Basic plan, for example, for 1,000 contacts costs 15 dollars a month, and focuses on email marketing, self-responders and landing pages.
For those looking for a more complete solution, the most popular plan is Plus, which already includes automation, webinars and other features. And for more robust contributions, GetResponse offers the Professional plan
This modality is much more complete and its price also varies according to the number of contacts. The monthly fee drops if the plan is signed for 12 or 24 months.
However, if your business still needs more, the Enterprise plan will help you. In it, you get free initial training, ongoing support from your account manager, dedicated infrastructure, campaign and deliverability consulting, webinars for up to 500 people and more. In addition to the flexible terms, and different payment options in BRL.
Because it is customizable and scalable, it is necessary to request a quote to scale the value of the investment. You can request one at this link.
HOW MUCH DOES GETRESPONSE COST?
GetResponse prices start at $ 15 / month for up to 1,000 subscribers. 
If you have more contacts, you can get 2,500 for $ 25 / month or 10,000 for $ 65 / month. 
All plans include unlimited emails and automatic responses.


IS GETRESPONSE FREE?
They do not offer a free plan, but have a 30-day free trial.


WHAT IS GETRESPONSE?
GetResponse is an email marketing platform. 
It helps you to build an email list, so you can develop your relationship with them and build a customer base.


IS GETRESPONSE A CRM?
GetResponse has a customer relationship management (CRM) feature that helps you manage your company's interactions with current and potential customers.


WHICH IS THE BEST AWEBER OR GETRESPONSE?
Aweber has some features similar to GetResponse. 
But GetResponse is significantly ahead in the area of ​​workflow-based automation.


Common questions
HOW MUCH DOES GETRESPONSE COST?
IS GETRESPONSE FREE?
WHAT IS GETRESPONSE?
IS GETRESPONSE A CRM?
WHICH IS THE BEST AWEBER OR GETRESPONSE?
Aweber has some features similar to GetResponse. But GetResponse is significantly ahead in the area of ​​workflow-based automation.
GetResponse
Simple and powerful tools to send emails,
create pages and automate your marketing. No credit card required, try GetResponse for 30 days free, cancel at any time.Try GetResponse for Free!
* We earn a commission if you click on this link and make a purchase at no additional cost.